I just wanted to let you know that Francie has been delivered and she is safe at home!It's only day one, but so far everything that you said has panned out. She is so calm and loves cuddling and she has the cutest teddy bear face so all you want to do is cuddle her. She is quiet as a peep in her crate. And she hasn't had an accident in the house so far!She comes when called, does pretty good with leave it, and knows she has to put in work to earn her treats!I cannot say enough about what a pleasure it was working with you all. It was literally a year of so many emails and you responded diligently to each one. I will of course keep you updated on her progress! Here's a picture of me and her in her new home!
Richard M., Tarrytown, NY
I have had noting but pure joy since you brought Stanley into my life. He's a very smart and well trained puppy. I appreciate everything you did in preparation for Stanley's forever home.I applaud David and Stephen for the training guidelines. He has learned shake, down etc. He is the only dog I have ever had who is not a crate upset puppy. Likes his crate for sure.
He met my entire family on Saturday. My granddaughters Madison - 8 and her identical twin sisters Taylor and Regan 6 loved him very much right away. My daughter Emily brought him a a stuffed play toy in the shape of a hamburger and he knows every toys name.Thanks to all for the fine breeding, training and overall care.
We have had Biscuit for 3 days now and she has been a dream! Her temperament is perfect--sweet, cuddly, calm, docile but when she wants to play, she is so spunky! Lisa and Andrew were the best to work with through the process and prompt on emails and answering questions. Very organized too! Matt transported Biscuit to us in Atlanta and it could not have been easier as the trek from Atlanta to Ohio was challenging for us as a family. Thank you Golden Cavaliers--we love our puppy!'
Sarah & Mike, Chicago - Poppy Golden Cavalier
We had the most amazing experience adopting a puppy through Lisa, Andrew, and Matt. Our little Poppy is so wonderful and brings so much joy to our lives. Her temperament is lovely and she is incredibly smart so training her has been a breeze. It was so obvious what great care she received prior to joining our family, she arrived so sweet and well socialized. The transportation process getting her to us was also easy and well done. Cannot thank you guys enough! She is the cutest and most delightful creature ever. Recommending you to everyone!!
Maggie Ross Newville, Brooklyn, NY
Lisa and Andrew at Golden Cavaliers were absolutely incredible. Excellent communicators throughout the process, and so kind and pleasant to deal with. We were elated to get our adorable and SWEET puppy Lincoln (now Morrie Lincoln) from them in 2022. He is the perfect addition to our family and fit right in, getting along great with our older dog who is a Yellow Lab / Golden mix. Our vet in Brooklyn also gave them massive compliments on all of the thorough records and communication we were able to provide about our puppy when he arrived. We are so grateful to them and would gladly work with them again, and highly recommend them to anyone who is looking for a puppy!
Patty, Jake and Anya' - Shorewood, WI.
Our experience with Lisa and Andrew at Golden Cavaliers exceeded our expectations. From start to finish, the experience with Gold Cavaliers was reflective of the care they take in working with people as they make the all-important decision to add a pet to their family. Lisa does an incredible job walking people through the administrative side of choosing a puppy. She attended to our endless questions with detailed responses and warm and friendly emails. She provided supporting information and recommendations as new dog owners and sent us pictures and videos once the puppies were born. Our family had endless moments viewing videos and photos as we narrowed our choices. We see in Maddy every day the quality, love and care that Andrew puts into breeding and raising puppies. It is clear that Golden Cavaliers value socialization, health and quality of life for their puppies. Our new pup Maddy bonded with our family right away and this is a direct reflection of the socialization that Andrew and Lisa promote. The quality of the socialization is especially apparent on walks through the neighborhood as Maddy shows openness and excitement to every person and animal we pass. It was exceptionally difficult to choose which puppy would match our family. When we arrived at the farm, we did not know what to expect and the experience exceeded our expectations. Lisa and Andrew and his family spent several patient hours with us while we got to know each of the puppies. They made us feel a part of their community and helped us make our important decision and answered our endless questions until we were able to make our final choice.When it comes to making a choice about the breed of dog that best matches a family, asking lots of questions can be very helpful. Lisa really walked us through this process, sending photos and giving us descriptions of this particular breed. Maddy's personality is just as Lisa described. The golden cavadoodle is very playful but with an 'off switch' and able to calm quickly and settle down into your lap for extended periods of time. This is a very intelligent breed, being easy to train starting at 8 weeks. Maddy is healthy, well socialized and a beautiful dog. Everywhere we take her people stop and ask about her and say she's one of the cutest and best personality puppies they've ever seen.Many thanks to Lisa and the Hershberger family for everything, especially our amazing Maddy. It was truly a memorable experience that will be with our family forever.
Golden Cavaliers is an incredible group that truly does live up to the hype. Even before I was confirmed to be able to get one of the puppies, Lisa was happy to answer any questions I had about the dogs, and made the process for applying very straightforward.
Since this was my first time owning a dog, I had many many questions leading up to getting him, and Lisa was extremely prompt and helpful in answering all the questions I had about dog care, as well as putting me in contact with nearby Golden Cavalier dog owners who also provided tons of useful insights into owning a dog in the area in which I live.
On top of the truly incredible service before getting the dog, my dog is absolutely precious and does live up to the hype. I have a Golden Cavadoodle, and he absolutely loves people, is incredibly sweet, and is a joy to have around the house! He's also extremely smart and was quick to learn where to use the bathroom, that he shouldn't nip, etc. The resources they provided on puppy care, as well as the people who they put me in contact with to learn about puppy care made me feel confident in raising this puppy, and the puppy himself is perfect.
I would absolutely recommend Golden Cavaliers to anyone who's looking for an amazing puppy!
110% recommend golden cavaliers! Andrew and Lisa helped us every step of the way answering the many questions we had. I was very on the fence about it at first, I have to admit i didn't even want a dog at first. But my daughter she is 17 now has been begging me since she could talk for a dog. Summer (formaly sydney) from Sally-Prince litter: is the most loving, happy, playful, adorable, sweetest dog in the world! Best decision i could have ever made. She is such a sweet heart. She is totally in love with my daughter, Truly best friends. Our whole family loves her as well! People lover and trained so easily. Every where we go she gets compliments for being the most adorable pup, and we totally agree! We couldn't have asked for a better baby girl.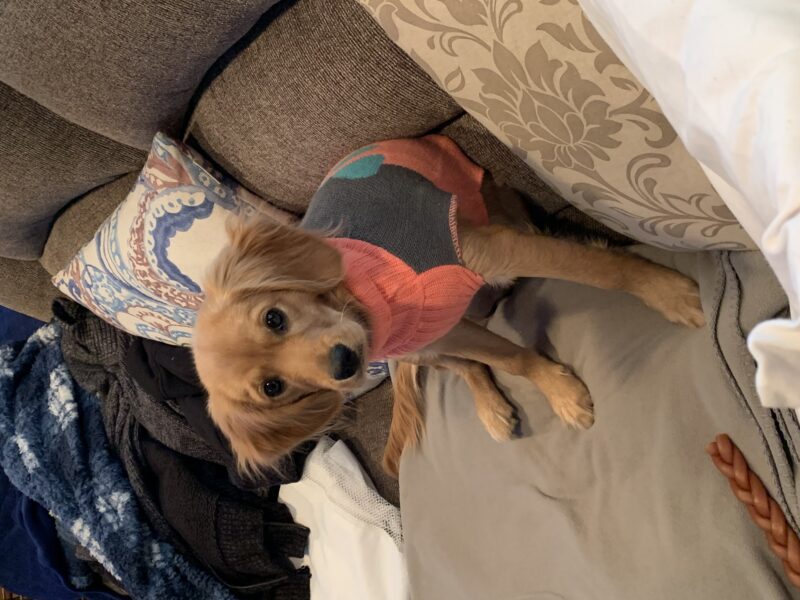 Hello! Kapi (formerly "Bailey ") has been with us for 3 months now and we couldn't be happier! She is the sweetest, friendliest and smartest pup you could ask for. She has brought so much joy to our family. My husband, who really wasn't on board at first, fell in love with her. Kapi sits with him every night. Andrew, Lisa and Matt were absolutely great from the beginning until the day she arrived. So informative and helpful all the time. I can't thank you enough. What a great experience.
We bought a female pup from the April 2020 Molly-Prince Litter whom we affectionally named Watson. The customer service experience was exceptional, the puppy adorable and well-nourished, although we have had a few medical/behavioral issues which have required more effort than expected--even for a pup!
The intake process and communications with Lisa from Golden Cavaliers was flawless. She kept us in the loop, sent regular pictures along the way and gave clear instructions regarding payment and pick-up. We requested some early neurological stimulation (regular handling, sensory experiences) so the pup would be less reactive and prepared to be a therapy dog. Andrew went above and beyond and agreed. Our later handling of the pup strongly suggested she was familiar with the touches and she's been a dream when cutting her nails or holding her in weird positions.
When we arrived in Ohio to pick up our pup, Watson came up to me, curious and interactive. Andrew was pleasant and respectful. The outside facilities looked well-kept and the other dogs were happily running freely together. The dam Molly was an outside dog and not particularly trained for inside behavior, but she liked scritches and attention and didn't nip or growl at a weaned Watson who still tried to suckle (with a full set of sharp teeth!). Our pup bonded to me right away and we had the expected early barking and crying when we left the pup early on. After a few weeks of crate and desensitization training, our pup still had persisting separation anxiety complete with crying, messing in her crate or play areas, tail between legs, ears back, inconsolable.
She was food motivated and caught onto simple commands very well, but we couldn't leave her alone. Even just taking a 5 min shower would send her way past whining and onto full dog-scream panic, taking minutes after being reunited to calm down. We hired a behaviorist/trainer and have stepped up our subthreshold training, but we still can't step outside our front door without her anxiety being triggered. She is 5 months old now and she still can't be left alone. She has developed guarding behaviors including growling and even snapping/nipping. She guards preferred food items, my lap, and preferred toys when she feels others are too close. She has never bitten down to break skin, but we are sad to say she will most likely not be able to be a therapy dog because of those behaviors. We certainly have been trying to train it out (even with a pro trainer), but, if anything, the behaviors have escalated a bit. She tested positive for Giardia on her first fecal test (@ 4 months), so we had to postpone her full socialization outside even further than the recommended 16 weeks.
The vet said it was likely acquired early through the breeder since we hadn't let her outside on the ground at all except our enclosed patio area. We did a couple rounds of antibiotics and she's since had 2 clear tests. In addition to anxiety when we step out of view, she also has hypersensitivity to sounds which is tough in an apartment complex. While walking on a leash, if a car goes by or another loud-ish sound happens, she tries to jump up on us. Sometimes she is redirectable and sometimes she's not. Watson tolerates, but is not rewarded by, pets. She's a great little work buddy, though as her favorite place to be is on our laps. Figures, as King Charles Cavalier Spaniels were bred to be lap/foot warmers. 🙂 Everywhere we go, Watson brings joy to people because she is so adorable and so soft. I've been approached my Instagram brokers(?) trying to get me to make her a social media star. I frequently get asked her breed because she is so unique and beautiful. Ultimately, we've had pros and cons with our Golden Cavaliers experience. We were over the moon for the first few weeks, but when we realized the separation anxiety and guarding behaviors weren't fading, our experience was negatively impacted. At the end of the day, my recommendation is: Proceed With Caution. Make sure you're prepared for the cutest baby in existence with above "normal puppy" training investment. She probably would have fared better in a wide open yard with other dogs and humans around pretty constantly.
I had been looking some time for a Golden Cavalier. In April, I found this breeder and was thrilled to start the process. I reached out to several other puppy parents that also adopted from them and all had great reviews. I was impressed at the care that Andrew took with breeding process, health of dogs and puppy care. When I first contacted them Lisa reached out and she was exceptional. From the first time she walked me through the process and all the way until the day she/Matt delivered my sweet puppy. They communicated with me every step of the way and answered all my questions. My sweet fluffy girl Anula is from Shy Girl and Prince litter in May. This beautiful, smart, sassy, curious and loving puppy is an amazing addition to my family. Thank you for everything!!
Annie McClorey and Sean Donovan
We cannot recommend Golden Cavaliers enough! Banshee (formerly Martin) is a Golden Cavadoodle and is almost 16 weeks. He is the sweetest puppy and everywhere we go people tell us he's the cutest puppy they've ever seen (we agree
). He's so sweet and cuddly loves to play and has been really easy to train so far. We really couldn't ask for a better puppy! Andrew and Lisa were also extremely easy to work with throughout the process. Andrew's farm is beautiful and it's clear how much love they gave Banshee in his first two months!
We are so in love with our sweet Rumi (formerly Mali)! She is a snuggle bunny and is eager to please. Lisa and Andrew were very easy to work with from Day 1 - Emails and texts were always promptly acknowledged. We would recommend Lisa and Andrew to anyone looking for a seamless puppy buying experience!
Hello. Our family is in love with Cooper (aka Oregon). He has really bonded with my children. Andrew made the process of purchasing the puppy from out of state very simple. I flew into Ohio and Andrew met me at the airport, with Cooper. He was the hit of everyone I met at the airport and slept the entire flight home. We love his temperament and personality. He is the perfect combination of playful and affectionate. We are so happy we now have a deposit on a second puppy.
We love our dog, Daisy, whom we purchased from Golden Cavaliers. She is calm and good-natured, intelligent, and was easy to house train. She is gentle with our three small children and they adore her. Andrew was very honest with us, allowing us to look around the farm and meet Daisy, her litter mates, and her parents before making a decision, and he has checked in every so often to make sure things are still going well. We could tell that Daisy had been loved and cared for which gave us peace of mind. Thank you, Golden Cavaliers!
Harper (formally known as Hazel), is the best dog in the world and totally completes our family. She is sweet, playful, loving and simply amazing! We can't thank you enough Golden Cavaliere's, she has truly stolen our hearts!!!🥰
We love our pup! She has been so much fun. Cali (aka Margie) has the best temperament and loves to snuggle.
Andrew was wonderful to work with and answered all my questions thoroughly and honestly. I highly recommend him as a breeder.
Highly recommend! I was very nervous about buying a puppy I had never met and having it shipped. Andrew was very helpful and thoughtful throughout the process. He took the time to answer numerous questions, send pictures and has continued to check in, even after she arrived. My puppy Pippa (formally Timber) is perfect. She is a happy, healthy, sweet little girl. I couldn't have asked for a better puppy or experience.
Hi Andrew,
Ryder is perfect!!! I cannot tell you how much we absolutely love him. He has been so so so good and he is a perfect fit for our family. I cannot stop thinking about Fletcher though. Please let me know if he is still available...
Thanks, Mary Pat
Share your experience via our testimonial form:
[contact-form-7 id="853" title="Share your experience in our testimonial form!"]