What do you get when you cross the classic beauty of the Golden Retriever with the "teddy bear" face of the Cavalier King Charles Spaniel? A down-sized version of the best of both worlds – a playful, people-loving disposition at a gentler energy level.
This mix results in a puppy with sound health, minimized risk of genetic faults, low to no shedding, and a loving personality. A great combination for any age.
We breed both Golden Cavaliers (other names include 'mini golden' or 'comfort retriever') and Golden Cavadoodles. Our Golden Cavaliers are 50% Golden Retriever and 50% Ruby Red Cavalier King Charles Spaniel. The Dams (mothers) are Golden Retrievers and the Sires (fathers) are the Ruby Cavaliers.
What Happens When the Puppies are Born?
PupNouncement and Week 1 – Families who have a reserved* spot on the list will receive an email to announce puppies have arrived, how many puppies the mama had, and then how many of each gender. Beginning the following week, in Week 1, you'll receive Week 1 pictures.
Week 2 – Puppy pictures. Getting Ready for Your Puppy email includes a shopping list, vet info, food links, and so much more!
Week 3 – Puppy eyes are open! Puppy pictures
Week 4 – Puppy pictures and/or videos of puppies
Week 5 – Puppy pictures and/or videos of puppies
Week 6 – Personalities begin to develop! Puppy pictures/videos. Balances are due.
Week 7 – Puppy Pick Time! Farm visit or FaceTime? It's up to you!
Week 8 – Puppy heads to their forever home. So, the question is…pickup or delivery?
2023 Litter Lists
We always say puppies know who their families are before we do. Thank you to our families for being a forever home to our pups, no matter their age.
Fall 2023
*There are no planned litter lists, but please feel free to ask. We estimate these litter lists will be available in early Spring.
Winter 2023
*There are no planned litter lists, but please feel free to ask. We estimate these litter lists will be available in early Spring.
---
WELCOME TO THE NURSERY
Puppies and parents are raised in an enclosed and climate-controlled nursery each with their own heated whelping den, access through a doggy door to a deck and a dog run.
The nursery boasts 8 separate whelping dens which offers plenty of room for our 5 mothers and 2 sires. Inside we can check on the puppies, clean the washable mats, spray down where we've walked, and the mother dogs and their pups have easy access to the outdoors through a doggy door. They can lay out on their enclosed deck and get some fresh air or keep their pups warm in the natural belly of the den curved as a den in the earth.
The round design ensures pups won't get stuck in a corner and encourages pups to stay in the center where it's warm (the pods are heated) while mom stays cool in summer and warm in winter.
The attachable ramp which helps get puppies in and out the doggy door is great for hips. The pillow for the mother-to-be and the mats once she has the pups are textured to avoid slipping and help the pups legs grow strong and encourage the use of back legs to help the puppies build muscle.
PUPPY SOCIALIZATION
Puppies are socialized not only using Early Neurological Stimulation Techniques, but also with young children. In addition, puppies are brought in-house and various trainer techniques to test personality traits are implemented. *Please note: at 6-weeks old, puppy personalities are only just beginning to show. Puppies' personalities can and do change over the course of 2 weeks or more.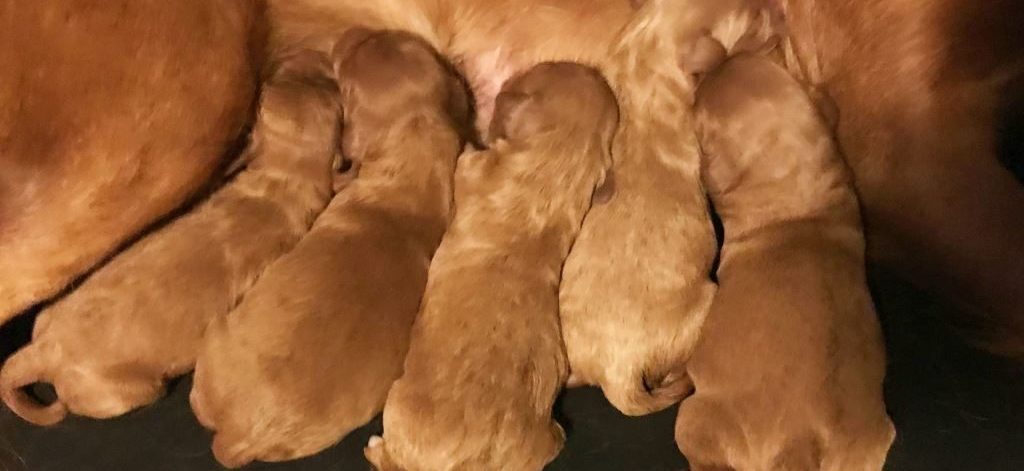 GOLDEN RETRIEVER
+
CAVALIER
KING CHARLES SPANIEL
=
Golden Cavalier!
The Golden Retriever brings:
a graceful, classic beauty

a people-loving disposition

a playful, athletic nature.
The Cavalier King Charles Spaniel brings:
a downsizing of the puppies

the "teddy bear" look (wide face, shorter nose, big eyes)

a sweet, sparkly sprinkling of "Cavalier Magic" – the gentler energy level.
WE BREED Golden Cavadoodles PUPS TOO!
If you are looking for an engaging, family-friendly dog who won't take up too much space on the couch, then the Golden Cavadoodles might be the perfect match for you.
We believe a fine puppy can only come from top quality parents.
This includes
Sound health;
Gentle temperaments with no personality "issues" and
High intelligence.
(The adoptive families put the icing on the cake, when they complete in-home training sessions and raise the puppy with loving kindness.)
Interested in adopting a puppy?
Prices for puppies reserved after November 2021:
All of our puppies are $3450 less a $300 deposit to reserve.
Please complete Step 1 (Interview Application) – See Reserve Your Puppy page.
Once approved, we will reach out to you to complete next steps – These are on the Reserve Your Puppy page as well – or we will reach out to schedule a phone call to discuss available options.
Puppy picks are based on date of deposit. We do our best to ensure you get your top pick whether Male or Female, but sometimes mothers don't have the right amount of one gender or another. Additionally, if a mother doesn't have enough puppies, then we will move you to the next available list.
Pups may go home no earlier than 8-weeks old.
Should a mother have more puppies than expected, we will first contact those who have already reserved a space on a list by submitting their deposit and buyer's agreement.
We vet check pregnancies at 5-weeks after breeding and let our families know if the mother is confirmed pregnant.
We will hand deliver your puppy to you ourselves, to your city's airport, for approximately $475-$975 depending on airfare.  Or, we can meet you at our airport to deliver your puppy to you. Contact us and we'll work out the best way together.
How to Reserve your puppy:
Click here to visit our reservation page & view our 5 step puppy reservation process.
What happens if the puppy isn't a good fit?
Any puppy is a big responsibility and should not be entered into lightly. However, we do understand unexpected situations arise – allergy concerns, unexpected medical or health issues – something which might leave you unable to care for your puppy properly. Should you decide your puppy isn't a good fit after 15 days or less, there will be a re-home fee. The re-home fee includes
Transportation costs to return your puppy to us
Fees including vet's exam, immunizations, grooming, re-listing,
Boarding fee at $10/day for up to 20 days
Special Note: We reserve the option to select a puppy from a litter after it has arrived, for "breeder's pick" for our breeding program. For more information, please Contact Us.