Ever wonder why our dogs permanently attach themselves to us while we sneak in a quick workout at home? Immediately they are directly underneath us with the most playful looks. You're probably thinking they are secretly poking fun at us. While this is probably true they also are bonding. Most animals have a hereditary drive for movement and an excitement for attachment! Your enthusiasm to be active encourages their sociability.
To plan and strategize our daily life is important, but too much scheduling can make our pets feel really constricted. Dogs are a creature of habit. A spontaneous hour here and there is exactly what your dog needs to be happier. Break those boring habits in order to maintain their happy spirit! Those funny random moments make for the best bond-building opportunities.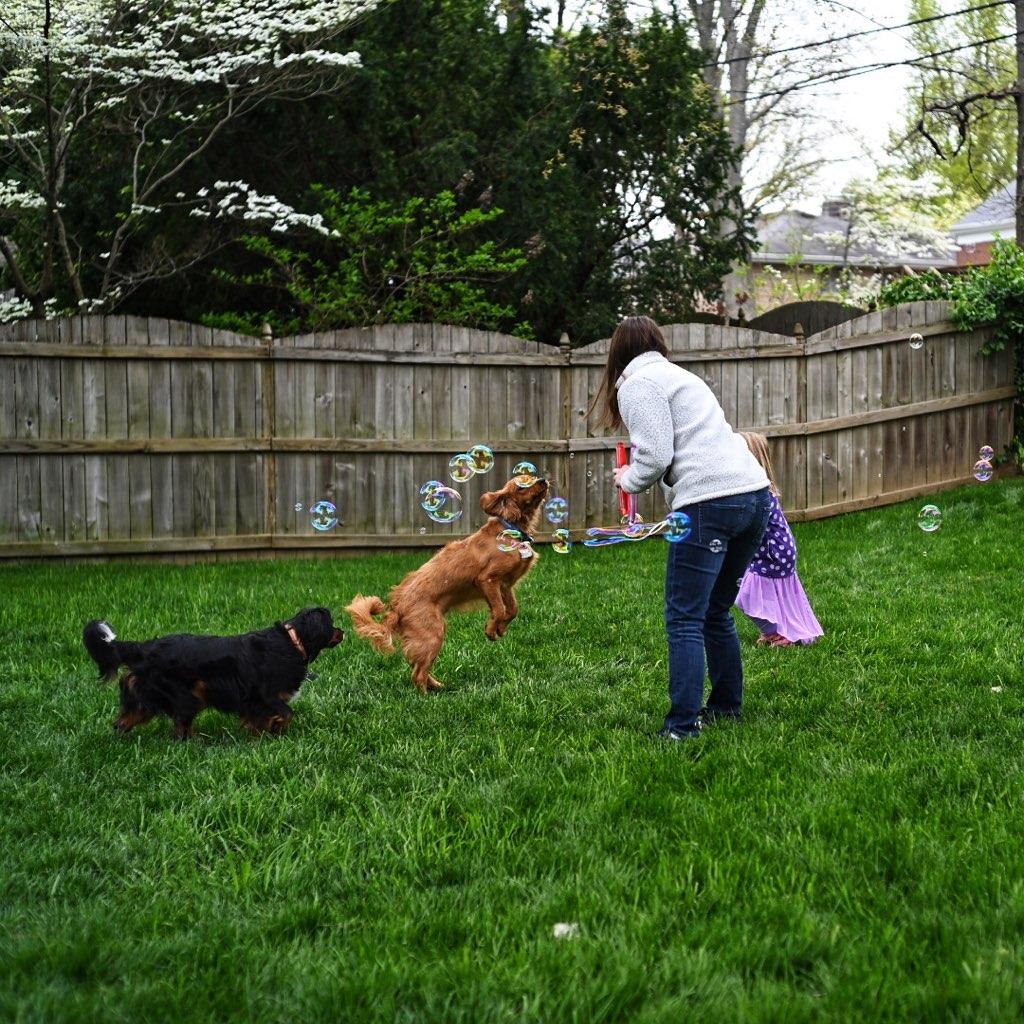 Dogs Have to Watch Their Weight, Too
Obesity is a real health concern for both dogs and humans. Many people don't realize their pets are overweight. We've become accustomed to the way we think our pets should look versus what a physically healthy pet weight appearance should be. New data released by Banfield, the United States' largest electronic veterinary health records system reveals important data. More than 1000 hospitals saw a 108% increase in the percentage of dogs diagnosed overweight or obese. This data shows a two-fold increase from 2011 at 16% to 2020 at 34%.
When a small or medium dog gains even a little weight it can have a significant impact on the dog's health. All those squishy bellies and wrinkles are cute, but are they healthy? A review of your dog's body condition score or (BCS) is a good idea regardless of their level of activity.
5 ways to exercise with your dog.
All activities should begin with a warm-up and end with a cool down to prevent injury.
Interval Sprints – Set up various target points in an outside leash-off safe environment. Direct your dog to point #1 then to #2 approximately 10-25 feet apart. Chase each other or race to each target spot. This provides an excellent cardiovascular workout.
Doggie Carry – Pick up your dog, check your posture and walk around the house holding your dog. A bit more of a workout for you than your dog. This is an exercise only for small to medium pets. A total upper body workout focusing on the shoulders, back and core muscles. Walk to each window assisting them in paw patrol from multiple views!
Playtime – Fun, active, playtime indoors or out is more work than you think. It's a lot easier to toss your dog a treat than to commit to playtime. Press pause on the remote, grab your dog's favorite toys and hit the road! A fine motor skills workout for both of you! You'll completely forget you're improving your physical health!
Walking/Running – Step up your leisurely stroll to a brisk walk or short run. When your dog stops, execute 10 left to right side shuffles, lunges, jumping jacks, kicks or squats. Rotate throughout your trip.
Hill/Stair Climbs – An indoor or outside endurance exercise available all four seasons. This is an activity targeted toward medium to large dogs. The slower you and your dog climb the more efficient the exercise will be. This will strengthen the extensors and flexors in your dog's hind limbs. In Particular, stairs are important in supporting your dog's ability to stand up and sit down. An exercise we could all use!
Will my dog be able to keep up with me?
Dogs and humans are great workout buddies since both burn energy at a similar pace. Dogs use approximately 0.8 calories per pound per mile when running or fast walking, while humans are close at approximately 0.73 calories. In addition, both need to use 3500 calories to lose one pound of weight.
Basic fitness requirements are necessary for every single dog. Most dogs need anywhere between 30-60 minutes of vigorous exercise daily. That is right in line with what people need to live a long healthy life. The amount of exercise depends on your dog's level of fitness, age, breed and personality. Making this a team effort improves everyone's mental stimulation, cognitive reactions and overall outlook on life. There is a therapeutic connection when you and your dog become a seasoned workout team. Before starting an exercise regime it's important to know your dog's specific needs and obstacles. Your vet can give you all the information you need.
A Doggone Great Workout Buddy
Let your dog help take the weight off your shoulders.
If you set exercise goals each year, but never follow through, the answer could be right under your nose. Your fur-baby may be the greatest workout partner you've ever had. You will be surprised how your dog will become an amazing daily motivator. Once a command is in place and understood, watch the positive reinforcement from them roll in. No more talkative dramatic life stories slowing down your workout. Cancellations and postponements are now a thing of the past. Additionally, time spent working out with your dog is free! Plain and simple quality time with your loving pet made possible through an equal exchange of unconditional love.
Long Walks: One of Your Dog's Love Languages
It's not just another walk or only climbing a new trail. It's a true attentiveness to your dog's work ethic as a consistent source of encouragement. The canine-human connection is rooted in dependability and mutual support. A meaningful workout takes on a language of its own. A communication of the mind, body and soul.
Empower your dog to move from the casual observer to your personal muscle booster! A little hard work shared consistently will strengthen and reinforce a long healthy life for both of you.
Petting our furry friends all winter long seems like it would be a rigorous cardio workout, but unfortunately, it isn't enough. Jump into Spring with a positive attitude and an active lifestyle to reap mental and physical benefits for both pup and pawrent this year. It won't be too 'ruff, we promise.
Works Cited
Writer, Staff. "New Data Reveals Pet Obesity Epidemic Existed Long Before Quarantine." Banfield Pet Hospital, 21 June, 2021. Ward, Ernie." "5 Reasons Why Your Pet Should Be Your Workout Buddy." Pet Health Network, 22 January, 2021."
Written by Guest Contributor "Sarah Ihrig"