What do you get when you cross the classic beauty of the Golden Retriever with the "teddy bear" face of the Cavalier King Charles Spaniel? A down-sized version of the best of both worlds – a playful, people-loving disposition at a gentler energy level.
This mix results in a puppy with sound health, minimized risk of genetic faults, low to no shedding, and a loving personality. A great combination for any age.
The following Golden Cavalier puppies are looking for their fur-ever families!
Upcoming Litter List 2020 & 2021
CLOSED - Amber (Golden Cavaliers) due date 3/10/21 – Go Home Date 5/5/21 (1/2 English Cream Golden Retriever x 1/2 Ruby Red Cavalier)
CLOSED - Charlotte (Golden Cavaliers) due date 3/10/21 – Go Home Date 5/5/21 (1/2 English Cream Golden Retriever x 1/2 Ruby Red Cavalier)
Our current lists have just filled up, but please stay in touch as our lists for the remainder of 2021 will be made available just before the new year! 🐾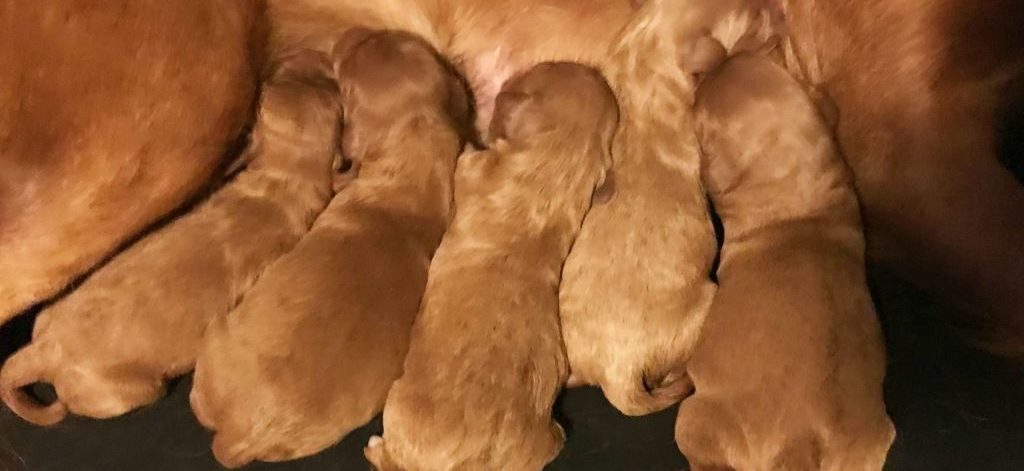 GOLDEN RETRIEVER
+
CAVALIER
KING CHARLES SPANIEL
=
Golden Cavalier!
The Golden Retriever brings:
a graceful, classic beauty

a people-loving disposition

a playful, athletic nature.
The Cavalier King Charles Spaniel brings:
a downsizing of the puppies

the "teddy bear" look (wide face, shorter nose, big eyes)

a sweet, sparkly sprinkling of "Cavalier Magic" – the gentler energy level.
WE BREED Golden Cavadoodles PUPS TOO!
If you are looking for an engaging, family-friendly dog who won't take up too much space on the couch, then the Golden Cavadoodles might be the perfect match for you.
We believe a fine puppy can only come from top quality parents.
This includes
Sound health;
Gentle temperaments with no personality "issues" and
High intelligence.
(The adoptive families put the icing on the cake, when they complete in-home training sessions and raise the puppy with loving kindness.)
Interested in adopting a puppy?
Prices for puppies reserved after September 2019:
Our puppies are available at $2850 (as of 2.10.2020).
Deposit to get on specific litter's waitlist: $300. (Note: Reservation deposits are non-refundable unless we fail to provide you with a puppy within one year of the date of your deposit.)
Puppy Transportation – Note: We do not ship puppies as cargo, but will help you get your new puppy home using one of several options!
We will hand deliver your puppy to you ourselves, to your city's airport, for approximately $475-$975 depending on airfare.  Or, we can meet you at our airport to deliver your puppy to you. Contact us and we'll work out the best way together.
How to Reserve your puppy:
Click here to visit our reservation page & view our 5 step puppy reservation process.
What happens if the puppy isn't a good fit?
Any puppy is a big responsibility and should not be entered into lightly. However, we do understand unexpected situations arise – allergy concerns, unexpected medical or health issues – something which might leave you unable to care for your puppy properly. Should you decide your puppy isn't a good fit after 15 days or less, there will be a re-home fee. The re-home fee includes
Transportation costs to return your puppy to us
Fees including vet's exam, immunizations, grooming, re-listing,
Boarding fee at $10/day for up to 20 days
Special Note: We reserve the option to select a puppy from a litter after it has arrived, for "breeder's pick" for our breeding program. For more information, please Contact Us.
Deposits are non-refundable
We do the following health tests on all of our parents!
Golden Retrievers
GenSol Diagnostics
[PRA-PRCD]  Progressive Rod-Cone Degeneration
[GR-PRA2] Golden Retriever Progressive Retinal Athrophy 2
[DM] Degenerative Myelopathy
OFA Hip and elbows
Cavaliers
Gen Sol Diagnostics
[EF] Episodic Falling
[DM] Degenerative Myelopathy
OFA  Heart , Hips and Patella
Golden Doodles
Gen Sol Diagnostics
[PRA-PRCD] Progressive Rod-Cone Degeneration
[VWD1] Von Willebrand's Disease Type 1
OFA  Hips and Elbows
A few of our pups who've found furever homes: